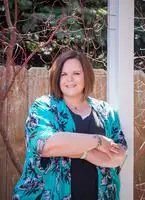 Education
Bachelor of Science Degree in Psychology, The University of South Dakota, 2003
Master of Arts Degree in Community/Agency Counseling, The University of South Dakota, 2007
Licenses and Certifications
Nationally Certified Counselor
Registered Play Therapist
Qualified Mental Health Professional
Licensed Professional Counselor - Mental Health in South Dakota
Love and Logic Parenting Facilitator
Practice Areas and Specialties
Individual and family therapy
Child and adolescent mental health
Parenting
Women's issues
Trauma
Adoption/attachment issues
ADHD
Childhood behavioral disorders
Anxiety
Depression
Relationship/communication problems
Insurance/Payment Plans Currently Accepted:
Direct Pay - sliding scale fee available upon request
South Dakota Medicaid
Sanford Health Plans (select plans)
Wellmark - Blue Cross Blue Shield
Avera Health Plans (select plans)
From an early age Stacee knew that she wanted to work with children in some capacity. While studying psychology at the University of South Dakota she obtained a job working as a direct care staff in a psychiatric residential treatment facility for children and fell in love with the world of children's mental health. She spent 15 years working treatment facilities for children and adolescents. This work gave her a wealth of experience treating children and adolescents with histories of abuse and trauma, helping parents learn new skills, and providing family therapy. In 2015 Stacee made the decision to leave residential care and took a job in rural southwestern Minnesota at a community mental health agency. Through this opportunity she provided both traditional outpatient therapy services as well as intensive family based services to children and adolescents in their homes, at school, and in the community. Through this experience she realized that she preferred being on the proactive side of keeping kids out of care as opposed to the reactive side of treating them once they were there. Stacee founded her private practice (Best Life, LLC) in April of 2021.
Stacee believes in meeting clients where they are and walking with them through whatever challenges they are facing. She tailors interventions and therapy techniques to each client's individual needs and believes that the relationship between client and therapist is one of the most important tools for promoting positive change.