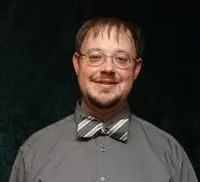 I was born and raised in Sioux City, Iowa. I received my Bachelor's Degree in psychology from Morningside College in Sioux City . I earned a Master's Degree in Counseling from the University of North Dakota in Grand Forks, North Dakota . In the spring of 2013, I was awarded a Specialist's Degree in Counselor Education and Supervision from the University of South Dakota in Vermillion, South Dakota. For six years, I worked as a counselor with a local community mental health center. In June of 2013, I established a private practice with Journey Therapy and Consulting . In my years as a counselor, I have worked with a variety of populations experiencing a wide range of emotional challenges. This work has included working with families, couples, and children.
I'm a Nationally Certified Counselor (NCC) , a Licensed Professional Counselor (LPC) , and a Certified Hypnotherapist through the National Guild of Hypnotists . More information may be found on my website: www.jamescadyhypnosis.com
We are committed to your privacy. Do not include confidential or private information regarding your health condition in this form or any other form found on this website. This form is for general questions or messages to the practitioner.